About Us
We started as a small garment cleaning and alterations company in Waterloo in 1930, just one of many small cleaning companies in the area. Originally owned by the Sailor family, Alvin Schmidt and his wife Margaret bought Varsity Cleaners in 1955. They passed it on to their son Craig Schmidt in 1985, and it has been in the Schmidt family ever since.
Through the 1960s, Varsity Cleaners began to establish itself as the dominant garment cleaning service in the area, and began to diversify by purchasing Milroy's Tuxedos in 1970, with stores now existing in Waterloo, Cedar Falls, Ames, Dubuque and Des Moines.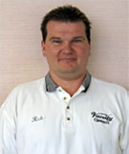 Our current president is Rick Schmidt, who was appointed to that position in 2002. Rick has worked at Varsity Cleaners since he was in high school. Having studied at the International Fabricare Institute to learn the most advanced cleaning, spotting and finishing techniques, Rick returned to Varsity Cleaners after graduating. Having over 30 years experience in fabricare, Rick provides our staff with the knowledge and techniques that allow us to clean and press better while keeping all of our services in-house for a lower cost to you.
While this third generation of ownership provides a deep tradition of success, we are always looking for new technologies to incorporate into our business. With Rick's guidance and expertise, we look to continue to serve the Cedar Valley with professional cleaning service and friendly, courteous customer service.
We're looking forward to working with you soon!
Check out all the services Varsity Cleaners offers and then stop by one of our 3 locations or fill out our online form and we'll pick it up from your house, your office or any of these locations.
Giving Back to the Community
Varsity Cleaners is proud to be a part of the Project Coats program. Every year we collect, clean and distribute over 600 coats to those that need them in the Cedar Valley as part of this program. We also enjoy giving back through donating to many local charities and sponsoring sports teams from soccer and T-ball to adult volleyball and softball.
Serving our community the best we can is our goal, so contact us or come into one of our locations to see how we can help you with your dry cleaning and laundry needs today!
Then and Now
Hover over the photos below to see where
we began to where we are now!
Questions?
Contact our knowledgeable staff at (319) 233-3571 or stop by one of our three locations.